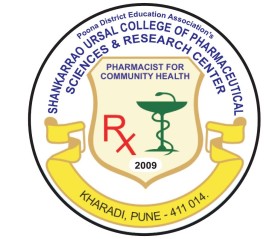 Welcome To Shankarrao Ursal College of Pharmaceutical Sciences And Research Centre, Kharadi
VISION
To be the leading academic center for excellence in pharmacy education, innovative research, healthcare sector and service to the community of the nation.
MISSION
To educate, train and provide lifelong learning opportunities for students and faculty.

To generate competent and skilled pharmacists with high degree of ethical standards, social and environmental concern.

To encourage students by creating research environment for the betterment of healthcare profession.
Program Educational Objectives (PEOs)
Quality education: To integrate and apply quality education in pharmaceutical sciences to make the students proficient, knowledgeable and competent.
Innovation: To promote students to gain knowledge through research projects and industrial training.
Entrepreneurship: To engage the students in innovative activities by making them able to think clearly to envision professional goals by executing entrepreneuship qualities.
Professionalism: To inculcate group work, team management and good communication skills with etiquettes to advance the pharmacists be professionally effective to the society.
Ethical standards: To sensitize students towards professional ethics and practice of healthcare service to society.